Sweet potatoes, a traditional fall favorite, are delicious year-round. This versatile autumn vegetable is a mainstay for Thanksgiving and Christmas dinners, especially in the southern United States. While its history extends back 5,000 years to warm climates, it is recognized and grown throughout most of the world. It's believed to have originated along the Yucatan Peninsula of Mexico and the mouth of the Orinoco River in Venezuela.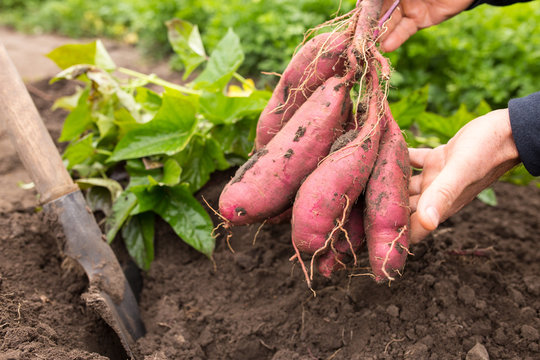 Sweet potatoes are not the same as yams or white potatoes. Sweet potatoes belong to the morning glory family, and its flowers look similar. True yams, related to the lily family, are starchy, dry tubers grown in Africa. Their bark-like skin is black or brown with white, purple, or reddish flesh. Grocery stores often identify sweet potatoes with deep orange flesh and copper skin (those we most commonly eat) as yams, but they are not.
Unlike sweet potatoes, white or Irish potatoes are members of the nightshade family (eggplant, tomato, capsicum, petunia). They are indigenous to the Andes region of South America and date back to 7,000 to 10,000 BC. The first known potato crop in North America was grown in Londonderry, New Hampshire in 1719, and the potatoes were known as Irish potatoes because the plants were from Ireland.
Sweet potatoes start mostly from cuttings of small pieces of tuber from the sweet potato known as slips. A single potato can produce fifteen or more slips. Plants produce long stems, five to 20 inches, that grow along the ground. This vegetable grows best in temperatures with abundant sunshine and warm nights.
China leads in the harvest of sweet potatoes, but it will remain popular in the deep south of the US. Traditionally, sweet potatoes in the Southern US are cured to improve storage, flavor, and nutritional value. Potatoes are dug from the ground and left in the field for two to three hours and then stored in relative high humidity at temperatures of 35 to 90o F. for five to fourteen days. Properly cured and stored, sweet potatoes will keep for a year at temperatures of 55o to 60o F. Storing at refrigerated temperatures or below 50o F. will injure the root.
Sweet potatoes are considered one of the vegetables highest in nutritional content. They are high in complex carbohydrates (starches) and a great source of dietary fiber and vitamin A (beta carotene, carotenoid). Sweet potatoes with darker orange flesh have a higher nutritional value than those with lighter color.
Sweet potatoes can be cooked in a variety of ways. A great way to retain nutrients and enjoy eating is by baking. As they bake, the high starch level in the potatoes tends to caramelize. Not only are they great to eat straight from the oven, but they can also be refrigerated or frozen and used later in preparing other recipes. To bake these simple tasty vegetables, wash potatoes, spray with cooking spray and rub into the outer skin. Place on a large baking sheet covered with aluminum foil. Space potatoes so they do not overlap or pile on top of each other. Bake at 325o F. in a preheated oven for 60 to 90 minutes, depending on size of potatoes. Make sure they are barely soft when squeezed lightly. Overcooking will cause potatoes to dry out and lose flavor. Serve immediately or refrigerate and reheat later. While sweet potatoes have a higher calorie count than many vegetables, and I choose to eat them plain, many prefer to slit the potato down the center and add brown sugar and butter.
While fall and winter holidays find sweet potato casseroles as a must for dinners, their goodness extends year-round. Below is a sweet potato bread recipe I acquired from my sister-in-law. This is just one more way to enjoy this healthful and delectable vegetable.
SWEET POTATO BREAD
3 1/3 cups sifted all-purpose flour
1 teaspoon cinnamon
2 2/3 cups sugar
2/3 cup vegetable oil
4 eggs
1 ½ cups sweet potatoes, mashed
2/3 cup water
2 cups raisins
2 cups pecans, chopped
Combine flour and cinnamon. In a separate bowl, mix sugar, oil, and sweet potatoes. Beat in 1 egg at a time. Dredge raisins and nuts in 1/3 cup flour. Add water and flour alternately to potato mixture, beginning and ending with flour. Spray loaf pans with cooking spray. Fill half full of mixture. Bake at 325o F. for 1 hour or until bread pulls away from side of pan.
Note: I cut the raisins and nuts to one cup each. It's your choice.